Exhibition Stand Builders In Oman
Exhibition Stands, Booths Fabricators in Oman
We Specialize in Customized Stall Fabrication & Designing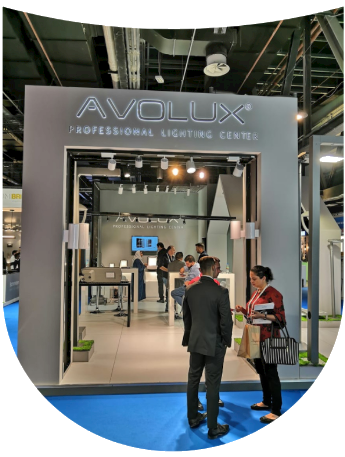 If you are a company planning an exhibition in Oman, there is no doubt that you will need the help of a professional and above all, one of the best in the business, Stands Bay LLC exhibition stand builders. We as stand builders and contractors in Oman will help your company stand out from the crowd of other exhibitors. We as stand builders and contractors in Oman will ensure that your booth will not only look great but that it will also work well. In this article, we will be taking a look at the services we offer and why you need to choose us over the rest of the companies in your region.
The most important thing that we as exhibition stand Builders in Oman can do for you is to make sure that your booth will not only look great but that it will function perfectly. We have the experience to create an eye-catching layout for your exhibition stalls and stand-in Oman. We can advise you on the best way to set up your stand with lighting, banners, and equipment. Once your stand is set up, we will be able to prepare everything for you including graphics and additional items such as pens. It will then be a case of just waiting for the trade show to get underway and all of your marketing strategies to work for you.

Idea Exchange
We listen to your ideas and understand your needs.

3D Design
We make your ideas true in 3D visuals.

Fabrication
One Platform for all the process and designs.

Transport
Stands transportation facility and national delivery

Build & Install
We build your stands at the committed time and ensure smooth opening.

On-Site Management
Our pro technicians supervise all the on-site management.

Dismantle & Storage
Efficient exhibition-show clean-up and stock management.
We make Exhibition Booth into Lime Light
We as an experienced exhibition stand builder in Oman are capable of providing a variety of solutions for any business requirements. We are experienced at planning, constructing, and designing exhibition stands in Oman as well as developing your marketing strategies. Our team of professionals will take care of all aspects of your marketing and corporate events. This means that your business can concentrate on growing and creating more business while we as your exhibition stand builders will take care of the logistics and safety of your stand. What a great opportunity for you to benefit from our team of exhibition stand builders!
The most popular types of stand installations are modular stands. Modular stands allow companies to move and adapt to different situations. Itcan be dismantled and re-fitted to serve various purposes. We will design your exhibition stand according to specific requirements. We can construct a modular stand in accordance with your specifications or recommend a custom modular stand design in Oman.
We are the best Exhibition
Stand Builder In Muscat Oman
There is no doubt that without the help of the stand contractors in Oman, your convention will not go off without a hitch. We will not just make the right decisions for your stand but will ensure that your marketing strategies work perfectly. A well-thought-out plan is essential when organizing an exhibition stand in Oman. We as your exhibition stand contractors and builders in Oman have years of experience in the exhibition stand builder arena and have created many successful stands. 
We as the exhibition stand builders in Oman will help you design and construct your stand according to your requirements. Our team of expert designers will work with you closely to ensure that every part is placed accurately and with precision. In order to ensure the effectiveness of your stand, the designers will work closely with you throughout the entire process.
Hire The Award Winning
Exhibition Stand Company In Muscat, Oman
Portable exhibition stand builders in Bahrain can also provide mobile stands that can be transported from one location to another. This ensures that you do not have to wait for a stand to be constructed at your site and then transported to the venue of the exhibition. This makes traveling easier, as you do not have to worry about the condition of the stand while it is being transported. If you choose a company that offers this service, it can make things much easier for you. Some of the companies in the Gulf region even assemble the stand on site, taking it down as and when necessary.
Locations where we offer
our exhibition stand/booths services
The popular Locations are progressively below..
AbuDhabi, Alicante, Anaheim, Atlanta, Australia, Austria, Bahrain, Bali, Bangalore, Barcelona, Beijing, Berlin, Bilbao, Birmingham, Bologna, Boston, Brisbane, Bulgaria, Bursa, Cannes, Chicago, China, Cologne, Coruna, Croatia, Detroit, Dortmund, Dubai, Dusseldorf, Eskisehir, Essen, Florence, France, Frankfurt, Genova, Germany, Greece, Guangzhou,  Hamburg, Hannover, Hong Kong, Houston, Hungary, India, Indonesia, Iran, Iraq, Israel, Istanbul, Italy, Izmir, Jaen, Jakarta, Japan, Konya, Kuala Lumpur, Kuwait, Las Vegas, Lebanon, London, Los Angeles, Lyon, Madrid, Malaga, Malaysia, Melbourne, Miami, Milan, Moscow, Mumbai, Munich, Netherlands, New Delhi, New York, Norway, Nuremberg, Oman, Orlando, Pakistan, Palma de Mallorca, Paris, Portugal, Qatar, Rimini, Rome, Russia, San Francisco, Saudi Arabia, Seville, Shanghai, Singapore, South Africa, South Korea, Spain, St. Petersburg, Stuttgart, Sydney, Taiwan, Tehran, Turkey, United Kingdom, United States Of America, Valladolid Valencia, Verona, Vigo, Washington, Zaragoza