Exhibition Stand Builders In Qatar
Rated #1 Exhibition Stand Builder In Doha, Qatar
We have 8 years of experience in building & manufacturing exhibition stand/booths in Doha, Qatar
YAY! We are Here To Help!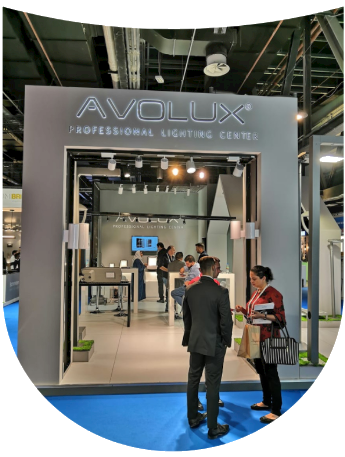 The Standsbay Company has a long history in the exhibition stand building business. It started out as a family-owned business in 2013. Stands Bay LLC hires professional stand builders in Qatar and each one of them is trained and experienced in providing top-notch exhibition stall building services. Each one of them is dedicated to their jobs and goes the distance to make sure they deliver on time and with quality. We as  exhibition stand builders in Qatar offer a wide variety of services including custom modular stand construction, custom modular exhibition stand construction, and stand dismantling. We also have services such as catering, event management, trade shows, retail displays, trade fairs, promotional merchandise, brand promotion, and much more.
Standsbay LLC is among the top exhibition stall builders that produces and sells different types of exhibition stand builders and pop-up displays. We design a vast selection of modular stand contractors, pop-up displays, and modular displays in Qatar. We also have a selection of modular exhibits, pop-up displays, and portable stand contractors and builders in Qatar. With their years of experience in stand building and design, they can certainly provide you with a range of stand options to suit your needs.

Idea Exchange
We listen to your ideas and understand your needs.

3D Design
We make your ideas true in 3D visuals.

Fabrication
One Platform for all the process and designs.

Transport
Stands transportation facility and national delivery

Build & Install
We build your stands at the committed time and ensure smooth opening.

On-Site Management
Our pro technicians supervise all the on-site management.

Dismantle & Storage
Efficient exhibition-show clean-up and stock management.
Why Choose Us For Your Exhibition Stall Building
Services In Qatar
We make Exhibition Booth into Lime Light
The prices offered by us range from low cost to very expensive. The prices will be determined according to the materials used in the construction and the size of the stand. You can easily select one that meets your specific requirements.The Modular stands can be used to exhibit any type of media. However, if you need to use a large exhibition stand you should choose a company that has experience in construction and modular stands. We as the stand contractors  have a good reputation for providing a high-quality exhibition stand.
The modular stand contractors from Standsbay LLC can provide an easy to assemble modular stand that meets all your requirements. We also have a good reputation for providing a high-quality exhibition stand design In qatar. You should choose a reputable company that can offer these products in Doha, Qatar.
Best Modular Exhibition Stall Builders In Qatar
The modular stand provides a great solution for displaying graphics and multimedia. It is a cost-effective solution for small and medium-sized businesses as well as trade shows and exhibitions. This stand can be transported from one location to another and can easily be assembled at the required time and place. In addition, it offers convenience for the display and distribution of product information. The stand builders in Qatar will ensure that the stand delivered to the customer is free of defects and delivered within scheduled deadlines.
The stand builders from Standsbay LLC can also arrange for custom-built exhibition stands. You can specify the size of the stand and the material from which it is made. The exhibition stand contractors from Standsbay LLC can make arrangements for exhibition stand rentals as well. we can arrange and rent a stand that meets your specific needs.
Contact us For All Your Exhibition Stall Building requirements
To Help You Grow Your Business!
You can hire Standsbay LLC to design a modular stand, or you can also get in touch with us to discuss any other exhibition stand needs. Our exhibition stand designers have all the necessary knowledge about exhibition stands and you can contact us to discuss your stand needs. You can get in touch with an exhibition stand consultant who will help you to decide about the exhibition stand options available to meet your stand needs. The modular stand offered by Standsbay LLC is designed to provide maximum benefits to its users, and the professionals associated with the stand contractors will ensure that you get high-quality construction and superior finishing techniques, along with ensuring that the stand meets your specifications.
If you are looking for a qualified and experienced exhibition stand builder in Qatar, then it would be wise to contact Standsbay LLC, only the company in Qatar that deals with high-quality stand builders and pop-up display designers. We offer high quality and competitive pricing in order to meet the needs of our customers.
Standsbay LLC was started in 2013 by Mr. Sheikh Adil bin Ahmad Since then, Stands Bay LLC  have expanded their business to cover a number of other countries including the United Kingdom, United States, Australia, India, Mexico, Norway, Canada, and Germany, Dubai, Bahrain, Oman, Abu Dhabi and Saudi Arabia While our primary product is their modular exhibition stand designing, we also offer other products that are designed specifically for trade shows and events. In addition to our exhibition stand designing and pop-up displays, we also provide high-quality audio-visual systems and lighting.
Locations where we offer
our exhibition stand/booths services
The popular Locations are progressively below..
AbuDhabi, Alicante, Anaheim, Atlanta, Australia, Austria, Bahrain, Bali, Bangalore, Barcelona, Beijing, Berlin, Bilbao, Birmingham, Bologna, Boston, Brisbane, Bulgaria, Bursa, Cannes, Chicago, China, Cologne, Coruna, Croatia, Detroit, Dortmund, Dubai, Dusseldorf, Eskisehir, Essen, Florence, France, Frankfurt, Genova, Germany, Greece, Guangzhou,  Hamburg, Hannover, Hong Kong, Houston, Hungary, India, Indonesia, Iran, Iraq, Israel, Istanbul, Italy, Izmir, Jaen, Jakarta, Japan, Konya, Kuala Lumpur, Kuwait, Las Vegas, Lebanon, London, Los Angeles, Lyon, Madrid, Malaga, Malaysia, Melbourne, Miami, Milan, Moscow, Mumbai, Munich, Netherlands, New Delhi, New York, Norway, Nuremberg, Oman, Orlando, Pakistan, Palma de Mallorca, Paris, Portugal, Qatar, Rimini, Rome, Russia, San Francisco, Saudi Arabia, Seville, Shanghai, Singapore, South Africa, South Korea, Spain, St. Petersburg, Stuttgart, Sydney, Taiwan, Tehran, Turkey, United Kingdom, United States Of America, Valladolid Valencia, Verona, Vigo, Washington, Zaragoza